Factors to Consider When Choosing a Pump Distributor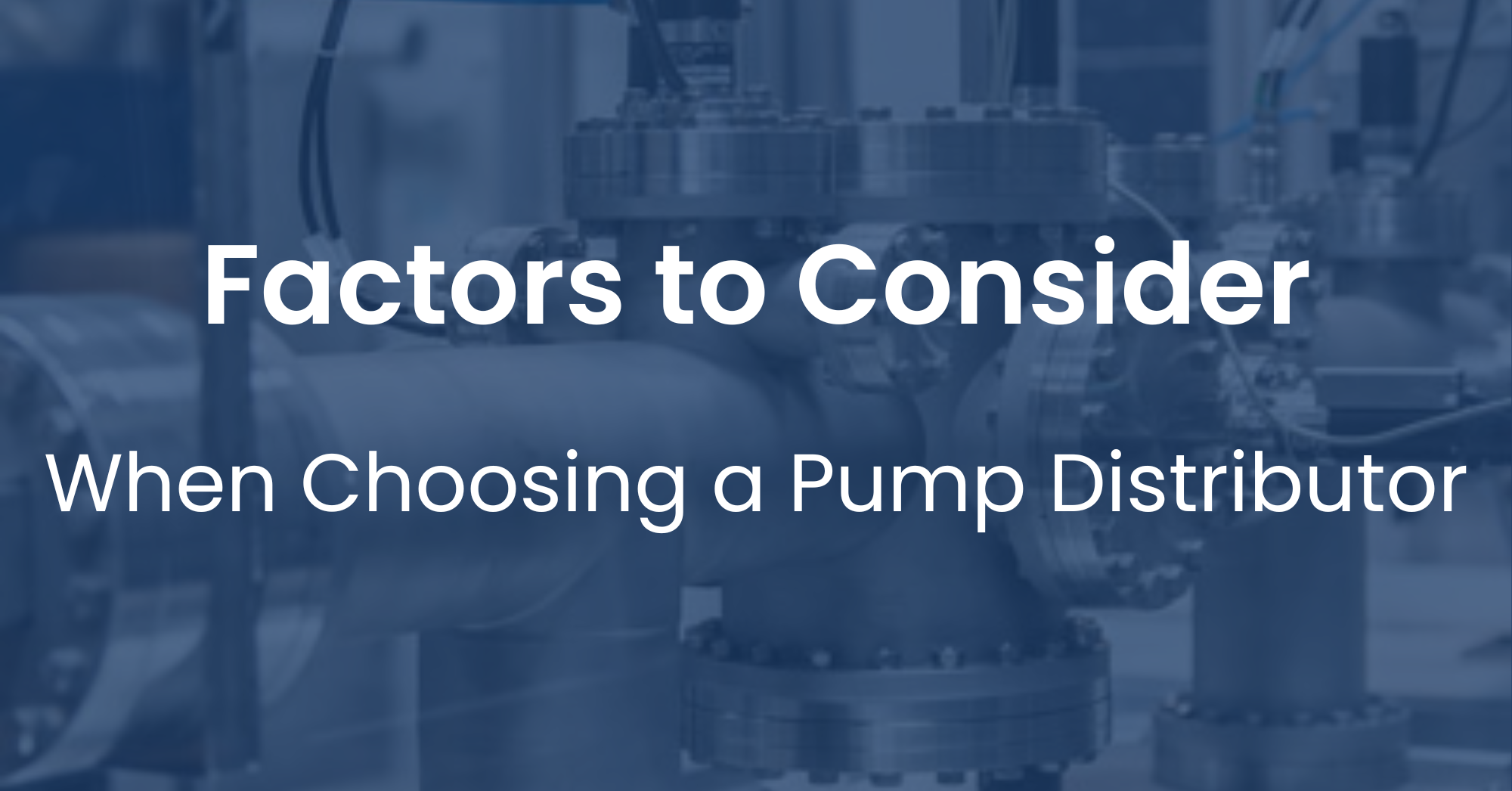 There's a vital role played by those involved in supply chains between manufacturers and end users. When it comes to the sale of pumps, distributors help provide quicker response times, offer value-added services, augment a pump manufacturer's sales and otherwise aid with the logistics of getting their products to those who need them. Instead, pump distributors should be considered partners, with manufacturers building relationships that enable them to sell more of their products while helping to educate customers about them.
Buying from pump distributors also serves customers since most offer products from a wide variety of manufacturers. Additionally, a customer can more easily put together a system with parts and equipment sourced from one place, buying a pump made by one manufacturer, mechanical seals from another, and couplings from a third. All this can be bought from a single distributor while acting as an intermediary to reduce manufacturer inventory and provide service for customers. Whether buying or selling pumps and parts for pumps, a distributor's qualities should be carefully considered, as a good distributor will optimize a partner's business while a poor one will hurt a manufacturer's reputation.
Purchasing Pumps: Distributor & Pump Qualities to Consider
The importance of pump distributors shouldn't be understated, and in many ways, they're as important as the pumps and systems themselves. Pumping systems serve important roles in many industries, transferring liquids from one part of a system to another through the conversion of mechanical energy into pressure energy. This pressure forces liquid to move at a certain flow rate to overcome friction in pipes, fittings, valves, and other processing equipment. Careful consideration must be paid to the properties of the fluid being moved, along with the conditions to which it will be exposed.
When purchasing pumps or components for pumps, distributors often are typically go-betweens for manufacturers and their customers. They are the pump experts, providing information and service to customers, as manufacturers often don't have the time or resources to furnish knowledge needed by customers who need to make an informed decision about their choice of pumps. Since distributors know about many different systems, pumps, and components, they also advise on the best type to use for certain applications or fluids.
Choosing a Pump Distributor
Suppliers of any product focus on customer service more than most manufacturers do, and the same applies to pumps. Distributors have experience with a plethora of pumps and pump parts, so have the expertise to ensure that buyers purchase the correct pump or component for their application. It's equally important for manufacturers to build relationships with distributors to help them drive sales of their products.
To build relationships with distributors, pump manufacturers should consider the following:
Know who the distributors are and track which ones typically sell the most of specific products.
Appreciate why certain distributors approach them rather than another manufacturer.
Recognize what they can do for distributors.
Understand what distributors can do for them.
Look at how distributors will market and sell their products.
Pumps distributors are more than middlemen. As they're close to customers, they can help drive sales for a manufacturer as well as deliver products to those who need them. Distributors can also educate customers about the products they sell, identify market trends, provide maintenance services, and ensure products arrive expediently. When it comes to pumps, distributors are essentially the eyes and ears of the industry for both manufacturers and their customers.
Pump Qualities
Choosing the correct pump for a specific application helps ensure the user doesn't experience unplanned downtime due to maintenance or repair. For any application involving pumps, a distributor's understanding of how different pumps work better for specific materials provides safer work environments and smoother operations.
Properties of Fluid
Understanding the properties of the liquid that will pass through a system is one of the first things to consider when purchasing components for pumps. Distributors can help a buyer choose what's needed for the intended purpose, as they normally deal with a wide variety of pumps, parts, and systems. For example, liquid properties such as flammability, corrosiveness or viscosity help narrow down options.
When buying pumps, distributors aid selection by considering liquid properties like:
Abrasive (or non-corroding) properties
Fluid viscosity
Presence and concentration of solids
Processing temperatures
Sensitivity to shear
Specific gravity
Vapor pressure
Along with the compatibility of the material being pumped come safety features offered by certain pumps. Distributors know that groundable pumps are required for flammable liquids, whereas pumps used in the food and beverage industry need to comply with Food & Drug Administration (FDA) regulations.
Construction Materials
The materials from which a system is made affect its compatibility with certain processes and liquids that go through the pumps. Distributors help determine the compatibility of the process and the properties of the fluid being pumped with the materials from which the pump is constructed. The choice is more complicated than using plastic for certain types of liquids and metals. Distributors understand this, which is why they will maintain detailed guides for various applications.
Critical Applications
When downtime causes massive problems during an application, the tendency will be for distributors to recommend more durable, costlier pumps. Distributors that have their customers' best interests in mind will only recommend these when necessary, however, endorsing less expensive options for applications that enable customers to remove a pump for maintenance.
Pump Settings
Regarding settings for pumps, distributors can help ensure the right one is installed for the application. It's not good to starve a pump, the most common cause of which is cavitation. Involving areas with too low pressure, cavitation can cause considerable damage to pumps. Distributors of pump components can suggest what inlet settings are necessary to prevent pump starvation, including how to calculate liquid vapor pressure and pump inlet pressure.
Environmental Conditions
For any pumps, distributors can advise as to any special instructions that should be followed when installing the system. This includes systems exposed to severe weather, inhospitable climates or other outdoor conditions. For pumps located indoors that handle hazardous materials, it may be necessary to add certain features to the motor to contain explosive dust or vapors. When it comes to environmental regulations, choosing the correct pump will also help ensure contaminants don't leak from the system into the environment. Distributors can help customers factor in these conditions when choosing a pump.
Performance Factors
When it comes to pumps, distributors can help customers pick out the best one to perform the application, advising too on the best configurations for the system. This may include details that affect performance, such as elevation, fluid velocity, friction head losses, operating temperature, output design, pressure, static head, and variable speed drive. Perhaps the most important part, however, is analyzing the suction within the piping and other parts of the system, as suction is by far the leading cause of problems with pumps. Distributors know this and can offer valuable information on the best pump to perform certain tasks.
Pressure & Flow rate
It's important to understand the pressures and flow rates involved in moving liquids through pumps. These two factors determine the total volume of fluid flowing through the pump and the time it takes to flow through it. When it comes to differential pressure in pumps, distributors can use their expertise to calculate flow rates by analyzing pipe size, static lifts, and friction loss within the system. Pump size will thus directly correlate with the flow rate, an important factor in choosing pumps. A distributor will know how best to adjust the flow rate for a specific pump by using a filter regulator to control pressure via the pump's air inlet, which involves simply increasing or decreasing pressure to adjust the flow. For centrifugal pumps, distributors know that adjusting flow isn't as easy, so will steer a customer clear of these types when an application involves continual pressure and flow corrections.
Ordering Components
When ordering parts for pumps, distributors help ensure that their customers won't get pirated, counterfeit, or other substandard components. An original equipment manufacturer (OEM) will often require that OEM pump parts be used on their equipment, otherwise, the warranty will be voided. Distributors understand why businesses want to minimize costs by purchasing cheaper components, but they also know that non-OEM parts will often cost more in maintenance and inefficiency over time.
Control Systems
Pumping systems these days often require advanced software and precision metering equipment to control them. While in certain cases such systems can make a huge difference in the efficiency of a pumping system, distributors understand the applications in which technology can augment efficiency. A good distributor will also know when an application requires a less sophisticated pump.
Buying Pumps: Distributors for Manufacturers
For every sale made by Hayes Pump, we offer servicing and maintenance plans. Our company additionally can repair pumping systems that aren't purchased through our company. Our first priority is our customers when it comes to pumps. As distributors, we understand the importance of boosting efficiency, extending the lifecycle of pumping equipment, and keeping downtime low. With an extensive selection of components from the best manufacturers in the industry, we know how to keep your pumps operational, and we've yet to find a pump we couldn't service.
As pump distributors, Hayes Pump carries items from the following manufacturers:
To learn more about these or any other product lines Hayes Pump stocks, contact us directly.