Viking Pump Motor Speed - Smaller, Faster, Easier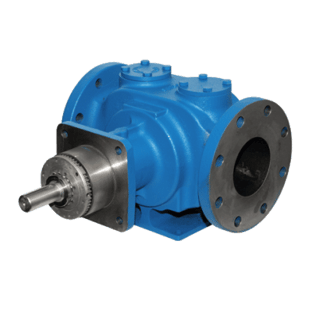 Viking Pump's Internal Gear Motor Speed Pump offers several technological advances in the science of flow solutions for the following liquid pumping applications:
Chemicals – Solvents, Glycols, Refrigerants
Refined fuels – Oils, Diesel, Biofuel
Oils – Crude oil lubrication, Hydraulic, Edible oils
Hayes Pump specializes in the following applications for the Viking Pump Motor Speed Pump. Bulk liquid handling and transfer, Bulk liquid terminals, Loading & unloading trucks, train cars and barges, Chemical Process, Petroleum, Bio-Fuels, Food, Beverage, Pharmaceutical.
Viking Pump Motor Speed Advantages
Expanded feeding area and redesigned head allow for higher speed
Pressure lubricated idler pin and bushing extends life
Gauge ports easily allow gauges or transducers
One piece casing ensures alignment for maximum bearing and seal life
Sealed ant-friction bearings eliminate the need for lubrication
Threaded one piece bearing housing allows for end clearance adjustment
Flange for motor mounting bracket eliminates the need for drive equipment and provides better unit alignment
Behind the rotor seal means shaft and bearings are not exposed to media
ANSI or DIN flanges option enables easy in-line mounting
The Viking Pump Motor Speed pumps feature several new technical innovations:
Axial feeding with Idler and rotor root feed grooves
Turbulence reduction with a liquid directing step
Radial feeding boosts with a modified crescent
Optimized casing inlet port geometry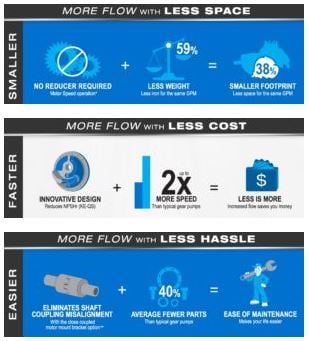 Viking Pump Motor Speed Pump Specifications
Maximum flow of 580 GPM (132 m3/h) provides greater flow than similar sized pumps
Reduced footprint for space constrained applications
Motor speed operation to 460 GPM (104 m3/h) provides higher value per GPM (m3/h)
Ability to operate 50 or 60 Hz synchronous motor speeds eliminates the need for gear reducers or gearmotors, reducing the overall cost
Viscosity: 28 to 25,000 SSU
Pressure: to 250 PSI
Temperature: -40 degrees F to +350 degrees F
Download Viking Pump Motor Speed Internal Gear Pump Brochure
Contact us to review detailed specifications on the following models.
Series-495-4195 - Cast Iron
Series 493 & 4193 – Steel Externals
Series-4197 - Stainless
Watch this video to learn about the Motor Speed Pump
Read More Viking Pump News
Viking Pump Lab Expansion and Innovations for Oil/Gas