Replace your Progressing Cavity Grinders with a Shark
The Zoeller Shark Series 6932 Replacement Assembly readily adapts to existing progressing cavity grinder pump systems, including the E-One Grinder Pump. They are 100% factory tested before shipment.
Meets UL, CSA, and NSF Pump Standards
1 HP, 230 volts, 60 Hz, 7.0 FLA
2 HP, 230 volts, 60 Hz, 10.5 FLA
Electrical Quick-Disconnect (EQD) Plug
Stainless steel hydraulic rotor with protective deflector plate
Integral pressure relief valve
Stainless steel fitted cover, stand, discharge, piping valves and fittings
Finned, Class 30 cast iron construction
Corrosion-resistant, powder coated epoxy finish
Discharge size - 1-1/4" NPT
Oil-filled motor with integral thermal overload protection
Viton seals and SC/C mechanical shaft seal
Hardened 440 C stainless steel cutter and disc, Rockwell C55-60
Stainless steel check valve
Red lifting rope
Anti-siphon device (optional)
RWD 7020 & 7021 systems with internally mounted level control
Sanitary sewage pumping stations
Pressure sewage systems
Commercial and residential sewage removal
Pump Specifications: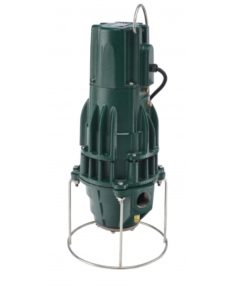 Discharge: 1-1/4" NPT horizontal
Seals – Silicon Carbide/Carbon, Buna-N elastomers
Construction – motor housing, cover, adapter and pump housing cast iron ASTMA A-48, Class 30, 30,000# tensile strength, corrosion-resistant, powder coated epoxy finish
Attaching hardware – 304 stainless steel
Square ring and gasket – Viton
Stainless steel cutter and plate hardened to Rockwell C 55-60
Pressure relief valve
Stainless steel legs provide for free-standing installation
Stainless steel helix hydraulic rotor
Buna-N hydraulic stator
Motor Specifications:
Permanent split capacitor (PSC) motor
Stator – Class B insulation and lead wires, Nema B design
Integral thermal overload protection with automatic reset
Housing – Finned cast iron, oil-filled
416 stainless steel motor shaft
Upper and lower ball bearings – dual, high carbon chromium steel
20' (6 m) power cord with 15 amp plug (extended cord lengths available)
Basin Assembly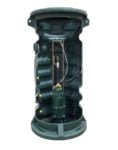 These Zoeller rotomolded basins and basin package systems are a cost-efficient alternative for a job-ready package system for LPS.
Standard basin size is 30" x 72" with the option to add a 12" or 24" riser for a depth up to 96".
Zoeller's flex hose disconnect allows for the removal of the pump without the need to enter the basin. Available discharge depth at 24", hard pipe with disconnect with discharge at 36".
Zoeller Z-Rail® allows easy install and removal of the pumps without the need to remove the discharge piping or enter in the basin. Discharge depths available at 24" and 36".
Control Panels (optional)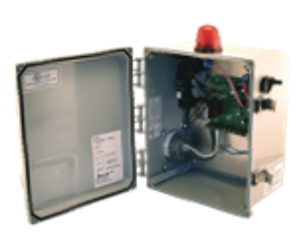 NEMA 4X, lockable enclosure
UL and CSA approved
Alarm for high water with redundant pump run
RJ45 jack for online monitoring and reporting
Optional generator receptacle, 230 Volt 1 Phase, 20 Amp, automatic transfer switch
Optional Z Control® Gateway features
Used to replace existing panel when required