John Crane Aura - Next Generation of Gas Seals
John Crane continues to evolve their line of seals, as the continued demands of operational processes continue to grow.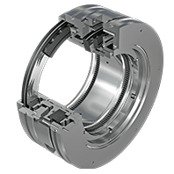 AURA - The Next Generation of John Crane Gas Seals:
Aura provides the ultimate reliable operation in temperatures ranging from -58°F to 392°F/ -50°C to 200°C and pressures up to 3190 psi (g)/220 bar (g).

reduces operational and transactional costs using a patented polymeric sealing device
reduces leakage rates by up to 15 percent, lowering the total cost of operation while protecting the environment
extends scheduled maintenance periods by up to 40% with an enhanced rotor design
reduces the need for an extensive spares inventory with the optional bi-directional capability
customized for you with their configurable design
comes standard with technical support and troubleshooting
Learn more in our video below. Then contact Hayes Pump, your John Crane Seals expert for assistance in your selection.