How did a Chemical Processing Plant Save Nearly 1.8-Million Gallons of Water Annually
Water Waste Reduction Solution
A chemical processing plant wanted to reduce the amount of water it used to process lithium hydroxide used in batteries. The water waste was linked to packing used on a pump in the hydroxide and limestone slurry process, leaking onto the concrete floor and red clay soil. Excessive water consumption, constant packing service, EPA concerns and facility structural heaving damage were among the reported issues.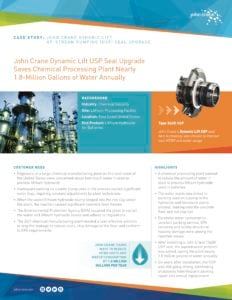 After installing a John Crane T 5620 USP seal, the wasted water problem was solved, saving the plant nearly 1.8 million gallons of water annually. Six years after installation, the USP was still going strong, eliminating shutdowns from frequent packing repair and annual replacement.
This case study shares the details on how it was done. Download it now and contact us if you would like an evaluation on how to improve your processing operations.
Download Lithium Chemical Processing Case Study