Goulds Pumps adds ICO Open Impeller i-Frame ISO Process Pump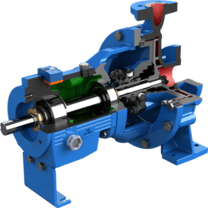 Meet Goulds Pumps' new ICO Open Impeller i-Frame Pump. Challenging solids handling applications get a performance enhancement with this new addition to Goulds' ISO standard pump family.
The ICO pump with a semi open impeller is designed to handle chemical slurries, waste liquids, food & beverages and fibrous pulp and paper. It is also well suited for air and gas handling applications.
The i-Frame pump is fully ISO2858 and ISO5199 compliant and available in 34 sizes. The ICO pump includes a patented Cyclone Seal Chamber, i-FRAME power end for improved service life, and the i-ALERT®2 equipment health monitoring sensor as standard.
Solids Handling Process Pump Specifications
34 hydraulic sizes
Flows up to 450 m³/hr (1980 GPM)
Heads up to 160m (514 feet)
Temperatures from -40°C to 280°C (-40°F to 530°F)
Pressures up to 25 Bar (360 PSI)
Available in a comprehensive range of materials for chemical and process applications that include Carbon Steel, 316SS,
Duplex SS, Alloy 20, Hastelloy, Nickel and Titanium.
ICO Impeller i-frame ISO standard Design Features
Semi Open Impeller for improved solids handling
ITT Goulds patented Cyclone Seal Chamber
Suitable for mechanical seal or gland packing
I-FRAME optimized Bearing Frame.
Flanges drilled to DIN/ISO or ANSI
Robust fabricated steel baseplate
Maintenance is easy and safe with our back pullout design.
5 year warranty
Download 13 Pages of Full Details, Drawings and Hydraulic Curves