Trash Pumps Eradicator system by Gorman Rupp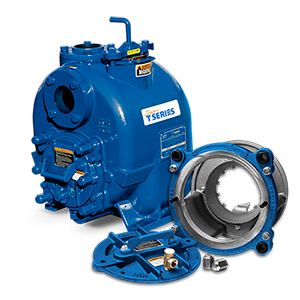 Need a better solution to prevent clogging in trash pumps? Gorman-Rupp's Eradicator™ Solids Management System for Super T Series® line of self-priming centrifugal trash pumps was developed just for demanding applications. It dramatically decreases service calls and overall maintenance costs and improves system uptime.
The trash pumps system consists of a new, patented lightweight inspection cover, an innovative back cover plate incorporating an obstruction free flow path, and an aggressive self-cleaning wear plate including laser cut notches and grooves, along with a revolutionary tooth designed to clear material from the eye of the impeller. Today's "New Sewage," sanitary wipes, plastic bags, feathers, hair, sludge and other clog prone material are easily handled by Eradicator.
For new Super T Series pump applications, a complete trash pumps unit are available in Gorman-Rupp Hard Iron and cast iron materials. Eradicator upgrade kits are available for existing Super T Series installations and will include all components needed to make an easy conversion in the field.
Watch Eradicator How it Works Video
Designed for economical, trouble-free operation, the superior solids-handling capabilities of Super T Series® pumps make them ideally suited for a variety of applications including solids-laden liquids and slurries. The large volute design allows automatic repriming in a completely open system without the need for suction or discharge check valves.
Eradicator Solids Management System
The Eradicator system features an aggressive self-cleaning wearplate incorporating a number of notches and grooves, as well as a patent-pending lacerating tooth, that helps break up stringy materials and pass them through the pump without impacting performance or interrupting service. A special back cover includes a patented lightweight inspection cover that can easily be removed if it is necessary to inspect the impeller. The innovative design greatly reduces troublesome clogging and expensive downtime.