Chemineer announces NEW JT-2 Impeller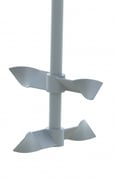 The NEW Chemineer JT-2 Impeller has been designed for a difficult application - blending high viscosity and non-Newtonian fluids. The JT-2, a transitional flow impeller, is specially engineered for situations where conventional turbines have lost their efficiency due to viscous effects, but you don't yet need a close clearance impeller. The JT-2 provides up to 50% reduction in power draw for the same blending performance compared with competitive impellers.
JT-2 Impeller Features
The design promotes blending by efficiently moving material in one direction in the center of the tank and the opposite direction on the outside of the tank. The increase in efficiency of this impeller comes from the improved flow pattern that greatly reduces re-circulation zones that extend the blend times of other impellers. This flow pattern improves the top to bottom communication in the vessel.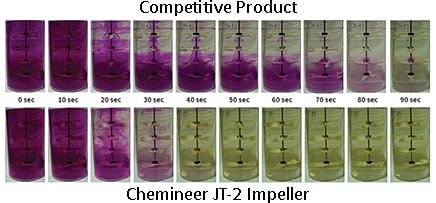 Benefits
Up to 50% reduction in power draw for the same blending performance compared with competitive impellers
Significantly lower total machine cost compared to competitive designs
Two bladed impeller for easy installation into vessels
Design operates in either direction
Impeller between 70% and 90% of the tank diameter for improved heat transfer
Larger impeller diameter reduces the need for a close clearance impeller (Helix / Anchor) in the low transitional regim
Applications
Polymerizations
Food Applications
Biopharma Applications
Fermentations
Paint Applications
Applications where heat transfer and blending are important
High solid loading slurries
Coal
Catalysts