10 Reasons you need a Fybroc fiberglass pump
Fybroc was the first company to develop a fiberglass reinforced pump - in 1966 - and they have continued to focus on non-metallic pumps for 30 years. It's their only business! Here are 10 reasons for you to consider a Fybroc Fiberglass Pump for excellent corrosion resistance in tough applications like pumping of acids, brines, caustics, bleaches, solvents, seawater and a wide range of waste liquids.
Advanced Composite Pump Designs
1. Resin Transfer (RTM) vs. Compression Molding Equals Superior Corrosion Resistance and Strength
The fiberglass components in Fybroc® pumps are produced using a Resin Transfer Molding (RTM) process. The major advantage of this process is that it allows for the controlled placement of long strand fiberglass reinforcement in high stress areas providing components with excellent physical properties, allowing the design of thinner-walled structures, and in turn permitting the use of nearly pure resin systems for optimum corrosion resistance.
Ordinary compression molding methods, however, utilize chopped glass random reinforcement that provides comparatively lower strength characteristics. In addition, the inherent physical properties of this technique and the exothermic properties of the highest quality resins force the inclusion of large amounts of clay filler in the bulk molding compound. These fillers detract form the corrosion resistance of the base resin and certainly add no strength.
While the compression molding approach sacrifices both corrosion resistance and strength, the RTM method optimizes both.
2. FybrocFlange is as Strong as Metal
Critical components such as the single-piece casing, and its heavily gusseted suction and discharge flanges, benefit from the reinforcing properties of the RTM process. This permits the handling of normal pipe loads under full working pressures. This method of reinforcement in the casing extends the life of the component and provides unparalleled strength without degradation in corrosive environments.
3. Dual Volute Casing for Maximum Seal and Bearing Life
Our larger pump sizes with potentially high radial loads feature a dual volute casing to dramatically reduce radial loading and increase the life and serviceability of bearings and mechanical seals.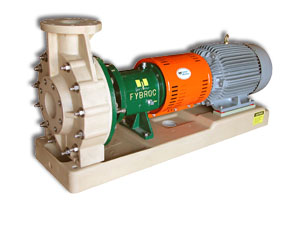 4. Integral Shaft Sleeve Eliminates Shaft Damage
Our horizontal pumps feature an integral shaft sleeve that eliminates potential "O" ring seal and shaft damage.
5. Extensive Interchangeability Simplifies Spare Parts Stocking Requirements
With Fybroc® pumps, using one material to cover a wide range of chemical applications allows extensive interchangeability and simplified parts stocking requirements as compared to pumps constructed of specialized metals. In addition, our pumps are designed with a high degree of interchangeable parts such as bearing frames, covers, casings and impellers.
6. Materials - Multiple Resins Solve Corrosion Problems for a Broad Range of Applications

High Purity Vinyl Ester Resins
Fybroc® pumps feature high quality and high purity vinyl ester resins with the lowest percentages of inert fillers. They offer a complete range of vinyl ester/epoxy resins to meet a broad range of corrosion resistant applications. Capabilities include pumps with synthetic veil for resistance to hydrofluoric acid, materials to handle moderate or heavy abrasives, special catalyst systems for handling strong bleaches such as sodium hypochlorite, special resin systems to meet FDA specifications, and second generation epoxy resins for certain acid and solvent combinations.
Thermoset vs Thermoplastic
Fybroc's® vinyl ester resins are high quality catalyzed thermoset resins that provide higher temperature capabilities and strength than conventional thermoplastic resins. Catalyzed polyester resins provide higher strength than non-catalyzed resins due to the cross-linking of molecule chains.
Pump Manufacturing Control - the Entire Process In-House!
7. Fybroc Manufactures its Own Fiberglass Components

By manufacturing their own fiberglass components , they control the catalysts and other additives to insure the highest strength and corrosion resistance. Having complete control over the entire manufacturing process allows Fybroc® to provide the highest glass loading ratios as well.
8. The Shortest Lead Times in the Industry
Due to reduced dependence on outside sources Fybroc® boasts the best overall lead times in the industry.
9. Quality - Complete Engineering Test Facilities for Performance Testing!
Fybroc performs hydro testing on all individual components as well as all finished horizontal pumps including installed mechanical seals.
10. Flexibility - To Meet Special Customer Requirements!
Fybroc® has the flexibility to meet special customer requirements for pump designs, special mechanical seals and unique installation problems.